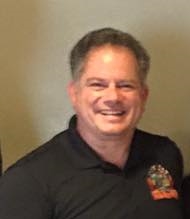 Leading the innovative culinary team at Tin Hut BBQ and Aloha Gourmet Food Trucks Hawaii is Owner/Founder and Pitmaster, Frank Diaz. Growing up on the mainland and throughout his extensive military career, U.S. Veteran and entrepreneur Frank Diaz dreamed of starting his own barbeque business. To some, the transition from serving in the military to serving up barbeque might seem an unlikely career path, but Diaz' passion for barbeque, coupled with an admiration of the MKT (mobile kitchen trailer), inspired his concept for a mobile barbeque business he could take to the civilian sector.
That dream became reality when, after relocating to Hawaii, the retired  U.S. Army veteran-turned D.O.D. Antiterrorism Specialist launched his barbeque-inspired food truck business on Oahu.
As he expanded into a brick and mortar kiosk and his fleet of trucks grew, Diaz launched Aloha Gourmet Food Trucks Hawaii, partnering with fellow mobile cuisine entrepreneurs from the best food trucks in Hawaii.
Diaz' concept – to provide diverse, cultural cuisine from the best food trucks in Hawaii (and soon, Washington State) – allows customers to bring gourmet food trucks to their events with the click of a button.



For his expanding fleet of food trucks, Pearl Highlands restaurant, and the newest Tin Hut BBQ location in DuPont WA,  Diaz and team create authentic smoked barbeque, using proprietary recipes that have, over time, been personally crafted and perfected by Diaz himself.
Fans can't get enough of Tin Hut BBQ's  Carolina Style Pulled Pork, and everyone raves about their Texas Style Brisket. They've been told their Southern Style Chicken is better than Grandma's, and NOBODY can keep their hands off Tin Hut BBQ's Kansas City Style Ribs!
Tin Hut BBQ serves ONLY Authentic Fare and our Meats are Cooked right… Smoked Low and Slow! Round out your meal with our hand-crafted, homemade sides for that BBQ experience you crave.
Tin Hut BBQ's Signature rubs are artfully crafted with spices imported from all over the world. Using only superior-quality ingredients and seasonings, meats marinate overnight, allowing Diaz' proprietary blend of spices to infuse deep into the meat.
Each cut of meat is carefully chosen and inspected by a Tin Hut BBQ Pitmaster, who painstakingly ensures that only choice or prime meats are used. After the selection process is complete and the meat is seasoned, the crew slowly smokes the meat for hours. The result is the most flavorful BBQ you've ever tasted, topped with Tin Hut's BBQ signature sauces that will have you coming back for more!
Rather than cooking their meats rapidly on high heat, Tin Hut BBQ slow-cooks its fare over low heat, which means that it takes between 12 to 14 hours to get the texture and flavor just right. A combination of Tin Hut BBQ's hand-crafted dry rub and barbecue sauce, which uses a combination of spices including cayenne pepper, paprika and raw brown sugar bring out this venue's signature flavor.






Tin Hut BBQ

in the News: Highlights 
Interview: Money Matters || FOX News
Shout Out from Facebook COO Sheryl Sandberg